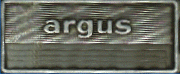 The Argus Camera Company


The Argus dates to 1931 and originated in the depression-ridden heartland of the United States. A group of Ann Arbor, Michigan, businessmen led by Charles A. Verschoor pooled their talents in an effort to boost their community out of the economic doldrums. Their idea was to create new jobs in a growth industry which would step up employment in Ann Arbor. Radio seemed to be the perfect answer; it was enjoying a firm hold on the American public. Verschoor formed the International Radio Corporation to manufacture inexpensive radios, using a molded-plastic case to keep costs low. The International Radio Corporation was successful from the beginning. Its initial product was the Kadette, the first five-tube ac/dc mantel radio on the market, and its patents were held exclusively by IRC. Business was so good that Verschoor soon added the International model and even ventured into the private label radio business with gratifying financial results.

By 1933, IRC was booming, and its contribution to Ann Arbor had become substantial. It had created new jobs, which had also brought additional money into the city, and,even more important, it had generated team spirit in the business community-Ann Arbor was on its way, and IRC was in the lead. But radio manufacture had one major drawback. It was a seasonal industry, with an annual slack period in late spring and early summer. Verschoor reasoned that if a product line could be developed which relied heavily on the use of plastics the facilities of IRC could be busy the whole year. On a trip to Europe, Verschoor had discovered the Leica camera and had been impressed by its increasing popularity. Universal Camera Corporation was just beginning to hit pay dirt with its line of inexpensive UniveX cameras, and Verschoor believed that International Radio could do the same with a 35mm camera, provided the price was low enough and the appeal wide enough to attract a large market. The use of plastic could help keep the cost reasonable. At Verschoor's behest Gustave Fassin worked out a simple design in 1934 priced at $9.95, the camera appeared on the market early in 1936 as the Model A Argus. Verschoor felt vindicated by the sales pattern of the Argus, and, believe that the potential of the line was far beyond that of radios, he committed IRC to the future by selling its radio patents to the Radio Corporation of America. The International Radio Corporation was renamed the International Research Corporation, and plans were laid for extending the success of the Argus A into other photographic areas.